Adopt-A-Child for Back-To-School 2018
Adopt-A-Child for Back-To-School 2018
Support our children!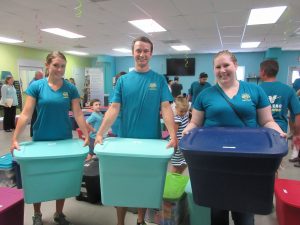 Dear Friends of Daughters of Charity Services,
Every year children right here in San Antonio begin the school year without the basic but necessary items required by the schools. A good start with proper clothes and all the needed school supplies does a lot for self-esteem and a desire to learn. Last year, thanks to your support, 475 children were provided school supplies, new shoes, pants, shirts and underclothes. Their beaming faces said it all.
With your help once again, we can reach these at risk students and nuture their desire for education and raise our graduation rate. Please complete the registration form linked below and return it to us to participate in this year's program. Additionally, you can contribute a monetary donation to support the program. All monetary contributions will be used to purchase clothing and supplies, and to assist families in their struggle with poverty. To completely sponsor a child is approximately $180.
After completing the form and sending it in to us, we will send you the child's name, ID number, sizes, list of school supplies and additional information that will help you know your "adopted child" better. By sponsoring a child, you will supply a new set of clothing, a new pair of shoes and the needed school supplies. These items should be delivered to our center August 6th to August 16th, 2018, Monday through Friday between 8 AM and 4:30 PM. The distribution day and the chance to meet your child will be Saturday, August 18th, 2018 at 9 AM.
Any questions may be directed to the Social Services Department. We look forward to another successful year with your help.
Sincerely,
Adele Dufilho
Adopt a Child Program
Phone: 210-334-2300
Fax: 210-922-1728
Email: adufilho@dcssa.org