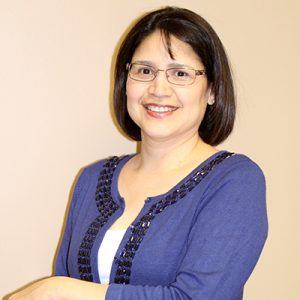 Margarita Arroyo
Director of Integrated Services
Margarita Arroyo is the Director of Integrated Services (Medical/Dental) at La Mision Family Health Care Clinic. In this hands-on role, she is responsible for the oversight and day-to-day management of the Facilities Department, Medical Department, and Dental Department for the La Mision Clinic. Mrs. Arroyo is a Project Management Professional and a Licensed Clinical Social Worker. She has training in Six Sigma Green & Black Belt, and went through Lean Six Sigma for Healthcare.
Mrs. Arroyo holds a Masters in Social Work and in Divinity.
She comes to Ascension DePaul Services having worked with Central Health in Austin, the Travis County Hospital District, and with multiple providers like CommUnityCare, El Buen Samaritano, and People's Community Clinic. There, she served the safety-net population who are at or below 200% FPL and are either under insured or have no health insurance. Mrs. Arroyo has experience working with the 1115 Medicaid Waiver, Delivery System Reform Incentive Payment, and with Health Information Technology. Additionally, she previously worked on projects to expand primary care access at existing clinics (using two Mobile Health teams) and to expand dental access to pregnant patients & patients with chronic illnesses.
Mrs. Arroyo was drawn to Ascension DePaul Services for several reasons. First, the Ascension DePaul Services care about bringing services to people in areas that need it the most. Second, she cares about the spiritual component that is highly important to the Latino community and for treating the whole person. Finally, she came to Ascension DePaul Services because of the leadership. At Ascension DePaul Services, the board members and CEO are committed to improving our services by using best practices that currently exist in the healthcare community and by committing to support the changes that will transform healthcare for Bexar, Atacosta, and Wilson counties. Mrs. Arroyo is from Laredo, Texas and has lived in Austin, Texas since 2004. She has been married for almost 22 years, has a 19 year old son in college, and a Boxer, named Mac, who is almost 12 years old.