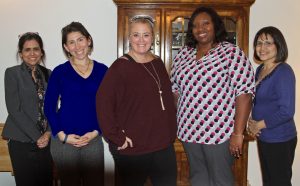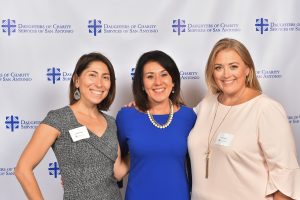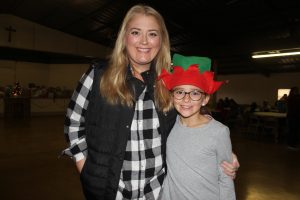 Anne Spears, Chief Development Officer of Ascension DePaul Services
Howdy! I joined Ascension DePaul Services in November 2017 after relocating to San Antonio for my husband's job as an Assistant Men's Basketball Coach at UIW. We have two children who keep us busy and I serve on the PTO at their schools in Alamo Heights. We also have a pug named Phil who is a source of constant entertainment and loud snores.
I've worked in development for a private Episcopal school and was very involved in fundraising for the Junior League of Bryan-College Station for many years. Until Ascension DePaul Services, the most eye opening job I have ever had was as a social services case manager in Montana. I was relatively young and found myself living in Montana as a transplant from Texas. Coming from a place of economic and familial stability, seeing extreme rural poverty was life changing. I saw hundreds of clients over the years and while many were folks who needed temporary help because of tragedy or loss, I saw a lot of extreme generational poverty. I remember a family with 8 children living in a house with no neighbors for 45 miles in any direction, with no running water or electricity. The children did not attend school and the parents were addicted to meth. A single mother who had no education with 6 children, none of whom had ever seen a doctor because they were born at home and never attended school. Countless children who had visited me with their mother when they were young, who now visited me with their own children in tow.
Living in a geographically isolated location with minimal access to services or opportunity, it was (and remains) difficult to stop the cycle of generational poverty. That being said, beyond the tales of despair I saw during my work, the tales of triumph stick out the most. I remember helping the single mom of 6 enroll her children in a rural one room school and hearing through the grapevine 10 years later that one of those kids was enrolled in college. I heard the mother of the 8 children stopped using drugs and left her drug addicted husband, moving herself and her children to town where they had access to rent assistance, food, and education. Most of the success stories I heard were the result of a non-profit organization stepping in to help these folks and most of the non-profits were very short staffed and underfunded.
When I came to Ascension DePaul Services, I was excited to get back to working with an organization that helps people. It's really fulfilling work to see a large donation come in or to write a grant that receives funding. When those funds come across my desk, I don't just see the money, I see the people who need the help and I see the passionate case workers or teachers who, because of a donation, will have additional resources to help their clients. Our organization relies on the individual donor, whether a gift is transformational or a plastic baggie of change given by a child, they help us meet the needs of our clients.
We look forward to sharing the personal stories of our Ascension DePaul Services team members as we begin to revitalize our blog and website. Please always feel free to reach out to me at anne.spears@dcssa.org.